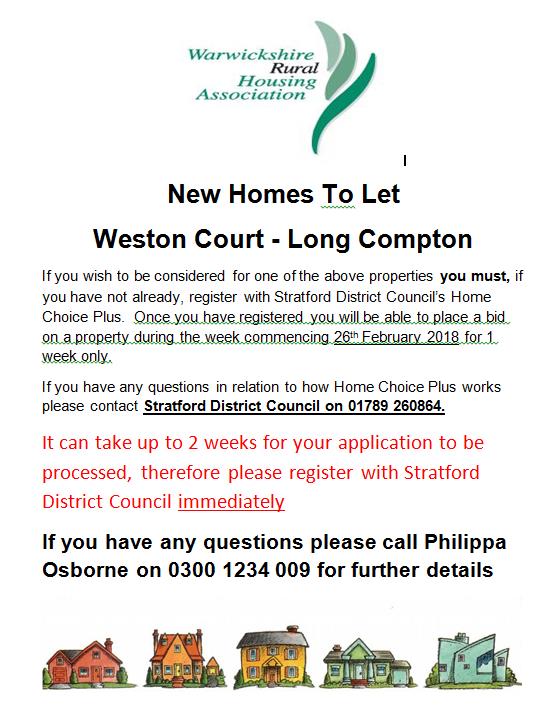 Rented Homes available via Home Choice Plus Weston Court, Long Compton
Five homes for rent will become available in March  of this year at the new housing development at Weston Court Long Compton
The homes will be as follows: 2 x 2 Bed houses     1 x 3 bed house    2 x 2 bed bungalows
The homes will be allocated using the system "Home Choice Plus" which will be administered by Stratford District Council.  You must have a local connection with Long Compton or adjoining parishes to be eligible and you must also be registered in advance on the Stratford District Council housing list in order to be able to bid for one of the new homes. For the definition of a "local connection", please contact Philippa Osborne on 0300 1234 009.
You can register on the  housing list by visiting www.homechoiceplus.org.uk OR by telephoning Stratford District Council on 01789-260864 OR by visiting Stratford District Council at Elizabeth House, Church Street, Stratford upon Avon CV47 6HX.  If you are not already registered with the District Council, please do this as soon as possible and mark the Village as Long Compton so that your application can be fast tracked.
When registered, once the development enters the weekly bidding cycle, you can bid for the property of your choice.  "Bidding" doesn't involve paying any money – it is simply a registration of your application for one or more properties.  It is expected that the homes at Long Compton will enter the weekly bidding cycle at midnight Monday 26th February 2018 for seven working days only.  You can bid on the internet by visiting www.homechoiceplus.org.uk .
If you have any questions or concerns please contact Philippa Osborne on 0300 1234 009